We've been working on a new forum setup the last couple of months and I'm excited to announce that we'll be updating the forum with the new look and functionality soon! While we still smooth some corners you can already have a preview look and help us by sharing your feedback

The new landing page: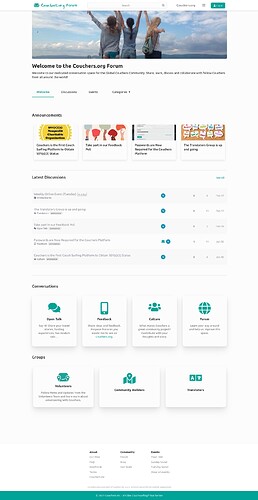 To browse a functional mockup check out the preview instance.
So what are the ideas behind the new setup?
For one we want to better express that there is one global Couchers community. Couchers is not a project that has a community attached to it. It's a community project through and through. The forum is not a space where some separate community is talking about the Couchers project. It's the space for the Couchers community to discuss all things Couchers on a global level. That's why we align the forum with the look and feel of all Couchers communities.
Another aspect we want to support better is collaboration with and between members. We already host two member workgroups on the forum (Community Builders and Translators). Right now these groups are hidden from all members that don't take part in them. The new setup will give more visibility to workgroups while still providing internal restricted areas.
Lastly, we also want to align the forum more with how communities are working on Couchers in general: based on distributed responsibility and accountability. Everyone who's ready to meet certain standards and activity can propose to start a new local community or join the community builders of an existing one on the Couchers platform. The forum will work in a similar direction. We will have more category based moderation, so it's visible who is taking care of specific areas of the forum. And the forum will be more open for members to propose and run new workgroups.
So yeah, very exited about bringing the changes to the forum soon! Thanks for having a look on the preview instance and sharing your feedback with us!