We've recently added a new section to the dashboard to encourage users to help grow the platform:
What do you think about the suggestions here. Are they reasonably achievable? Is there anything we can add? Reading it, are you convinced to do any of the suggestions?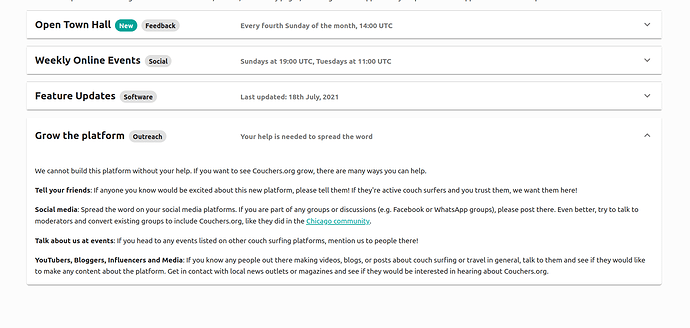 The text is:
We cannot build this platform without your help. If you want to see Couchers.org grow, there are many ways you can help.
Tell your friends: If anyone you know would be excited about this new platform, please tell them! If they're active couch surfers and you trust them, we want them here!
Social media: Spread the word on your social media platforms. If you are part of any groups or discussions (e.g. Facebook or WhatsApp groups), please post there. Even better, try to talk to moderators and convert existing groups to include Couchers.org, like they did in the Chicago community.
Talk about us at events: If you head to any events listed on other couch surfing platforms, mention us to people there!
YouTubers, Bloggers, Influencers and Media: If you know any people out there making videos, blogs, or posts about couch surfing or travel in general, talk to them and see if they would like to make any content about the platform. Get in contact with local news outlets or magazines and see if they would be interested in hearing about Couchers.org.