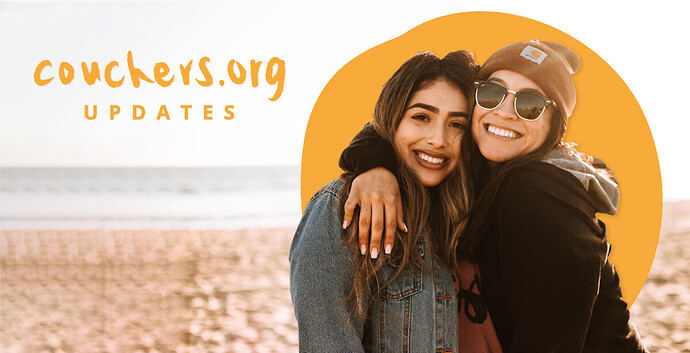 Platform Progress
953 sign-ups in total

Improvements:
Continuing to implement and build out local communities including local guides, wikis, and discussion pages.
Online and local meetups have started being organized.
Join the Alpha!
The Forum
321 people now signed up.
Help Decide Couchers New Logo!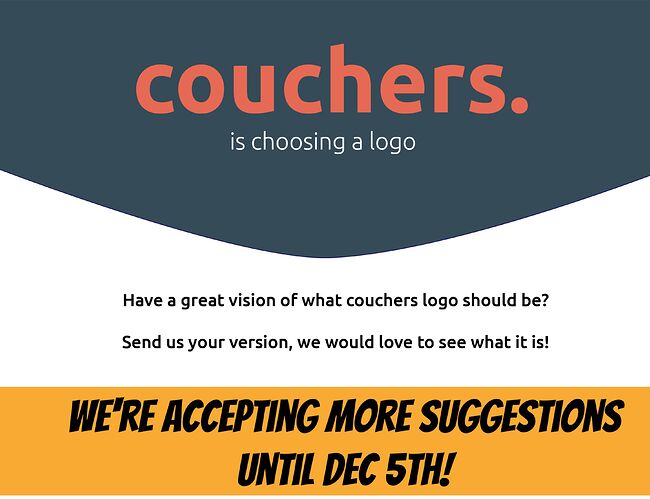 Helpful Forum Changes
There have been several helpful changes and discussions happening inside the Couchers online forum. Topics centered around getting active in the community via online and local meetups, how we can improve the forum, and the latest developments as we work closer toward fully launching Couchers.
One of the main discussions in our last weekly online event was if we should have a community chat or messaging feature. Figuring out the level of it, whether it be at city, state/province, region, or country level. This could allow for community members to connect in a different way. Let us know your thoughts on this.
Ever wanted to host your own event? All members on the forum now have access to creating public events! Find out how to publish an event to the forum.
Video Hangouts
This month we started hosting online video hangouts with the Couchers community. There is one online event every week for all community members. You can meet and chat with each other and get to know the Couchers community! Get answers to questions you may have about Couchers.org
The purpose of these online events is to let the Couchers community get to know each other, talk about anything related to couch-surfing, and answer any questions you may have. Learn about the latest updates with the project and give input on ways to make Couchers the most comprehensive it can be.
The date and time for the online events are chosen based on the response of community members. Check out the forum for the latest information.
If you want to join in on future events, be sure to comment in the discussion linked below. There you can see, and suggest, types of events—from discussions to games—and get in on the hangout!
Help Needed!
We are looking for volunteers for:
Backend Development: To build the new website and platform with Python.
Graphic Designers: To design marketing and outreach collaterals.
Join the Volunteer team if you are interested in helping out!
Thanks to everyone involved!
So many helpful additions and discussions have been occurring. Public events are being created to meet other Couchers, the weekly online events are continuing, and more improvements are being made to the development of the mobile app.
We're really looking forward to the next few months as new additions to the site and community continue to be added. Keep the discussions going, because they have been incredibly informative and educational so far. If you have something to say that isn't already a topic, you can add a new topic! We welcome and encourage—and really appreciate—your participation at every level.
So thanks for reading, check out the Alpha, and head on over to the forum to give your two cents. Oh, and invite your friends!
Love,
The Couchers.org Team