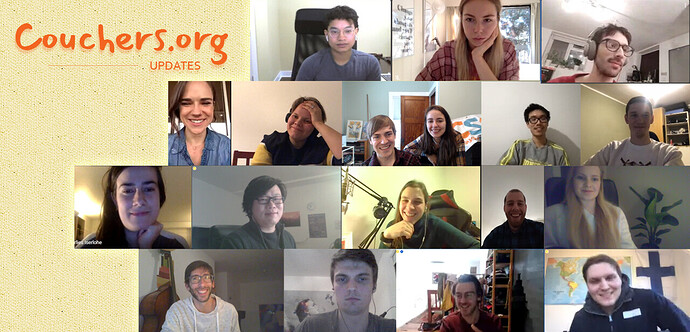 Platform Progress ⇪
○ Over 1100 sign-ups in total
○ Improvements: A series of new logo concepts are ready. We want you to help us decide on the direction of Couchers new logo. Read below!
The Forum ✐
○ 365 people now signed up.
○ Hot topics:
Thoughts on different logo options
You Can Help Couchers Choose Our Next Logo
As we continue to work on the beta version of the platform and prepare for launch, finding the right logo has been at the top of our minds.
Logo's represent an organization. They can show what an organization is all about. It's a key component in the Couchers mission of providing an accessible couch-surfing platform.
We need your help.
Our awesome design team has put together three different logo's and the concepts behind them. We want you, the Couchers community, to give your input into helping decide on which direction to take the logo in. There has already been some great discussion in the community forum about the different options.
Click the button below to go to our voting page where the three logo's are listed. Pick the one you feel that represents Couchers the best. Thank you for your input! Every vote counts!
Is Anyone Hosting at the Moment?
Travel has been on pause for most people since the early part of 2020. We've been social distancing and limiting travel.
As things start to change, you can't help but wonder if anyone is actually hosting at the moment. Or even getting any requests. Over on the forum, different community users chimed on how they have seen the couch-surfing experience change since March 2020.
Head on over to the forum and let us know what your hosting and couch surfing experience has been since the pandemic first started.
Is Anyone Hosting at the Moment?
Video Hangouts ☜
Join us for one of the weekly online video hangouts. You can meet and chat with each other and get to know the Couchers community! Talk about couch-surfing, give input on ways to make the platform the most comprehensive it can be, and get answers to questions you may have about Couchers.org
The date and time for the online events are chosen based on the response of community members. Check out the forum for the latest information. There you can see, and suggest, types of events—from discussions to games—and get in on the hangout!
Help Needed!
We are looking for volunteers for:
Frontend Development: To build the website with React.
Graphic Design: To design marketing and outreach collateral.
Respond to this email if you are interested in helping out!
Thanks for reading. Don't forget to head on over to the forum to give your two cents. One of the topics is on the purpose of the forum during Couchers beta release. Read on and remember to invite your friends!
Are you excited for the upcoming beta release of Couchers platform? Let us know!
Love,
The Couchers.org Team